These sheds are Keter's new range of premium garden sheds, they are extremely well made and have several features that mark them as a cut above any other resin shed on the market. If you are looking for the best quality outdoor shed in Australia, this is the one.
Dimensions external: 3.5m W 2.29m D 2.54m H
Dimensions internal: 3.24m W 2.01m D 2.42m H
Door opening width: 1.485m
Strong & durable: Thick double-wall structure with steel reinforcement
Easy assembly: Pre-cut tongue and groove panels
Maintenance-free: No rust, no dents and no peeling
Customisable: Walls can be painted to your colour personal preference, read more below
Robust, wide double doors for easy access
Heavy-duty resin floor supports more than 300PSI Suitable for storing even the heaviest items (lawnmowers, ATVs) due to the strength of the floor.
Low maintenance thanks to its weather-resistant structure.
High enough ceiling for an adult to comfortably move around inside
Stainless steel locking system for extra security (lock not included)
Oakland 1175 Shed Painting Instructions
The Oakland is the only resin shed you can paint.
Our Oakland shed is a maintenance-free resin shed made of a unique compound that enables the wall panels to be painted. The shed can be used in its original colour, or the walls can be painted to match your landscape, deck, patio, or outdoor setting.
Type of paint: The walls of the shed can be painted with water-based acrylic paint for exterior use.
Recommended: Solid, light shades, satin or semi-gloss finish. Consult with your colour consultant or paint professional when choosing paint.
Application: Use a roller to apply the paint to the wall surface. Do not paint the crevices gaps in the wall panels.
Do not paint windows, doors or door beams, roofs, floors, or any other part of the shed.
Keep in mind: Painting requires maintenance. After some time, repainting may be required.
The advantages of the Keter Duotech system: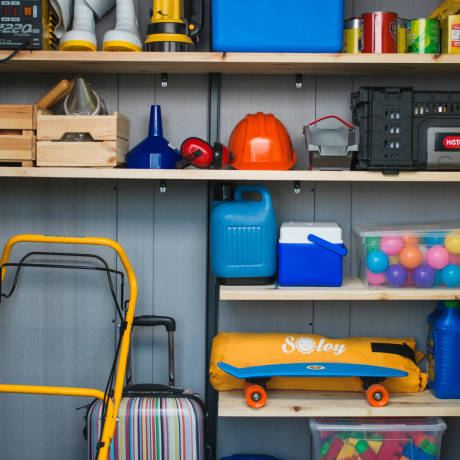 KETER DUOTECH™ is - Easy to Modify
While DUOTECH™ sheds come storage-ready, the material can also be easily modified, allowing you to create a truly personalized space. You can paint it, hang on it, drill on it, and cut it!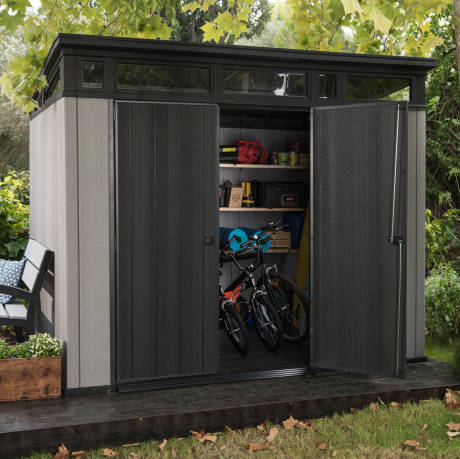 KETER DUOTECH™ is - Rigidity & Strength
DUOTECH™ products are engineered for strength and durability to ensure they can withstand anything the outdoors can unleash. The double-wall construction and steel reinforcements help DUOTECH™ sheds remain uncompromised and keep your belongings protected.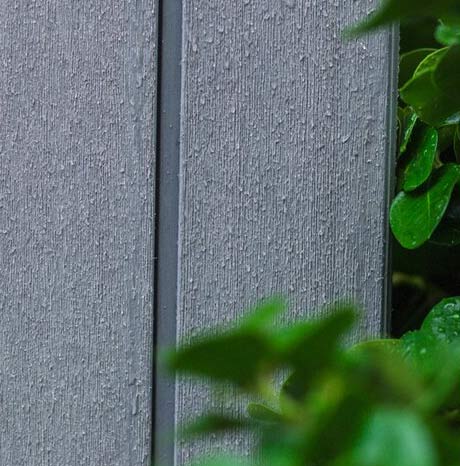 KETER DUOTECH™ is - Natural Look & Feel
DUOTECH™ sheds are unparalleled in function, yet they're also designed to beautify any outdoor space. Either left as is or customized to your liking, your DUOTECH™ product will bring an easy elegance to your yard or garden with its classic look and feel.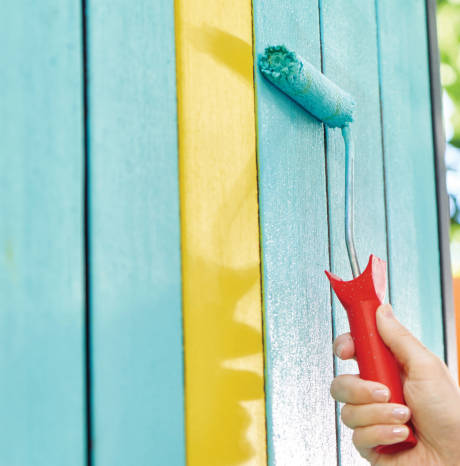 KETER DUOTECH™ is - Easy to Customise
DUOTECH™ panels are gorgeous as they come, but they're also made to feature your favourite shades of paint. Add a shade that matches your house, landscape or outdoor area, or brighten things up with the perfect pop of colour.